As is traditional, click on a picture to see it full-size.
The resident horse in the Green Dragon car park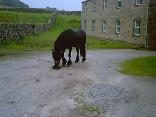 A line of bikes, also in the Green Dragon car park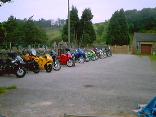 Here's the sitting room in the flat, and the view from it, and a demonstration of the best method of drying out socks. Note to self - remember to pack enough socks next time.
Saturday involved a couple of rideouts. I headed off to Alt-Berg in Richmond with a few others, then headed off for a ride, with the intention of possibly catching up with one of the other groups. I went to Kirkby Stephen on the B6270, then to Nateby and south on the B6259 to the A684, where I turned right and then took the first left, signposted "Garside Station", to Lea Yeat. Turned left in Lea Yeat, and then right on the B6479 down to Stainforth. A left in Stainforth took me to Halton Gill. This was just before Halton Gill:
and thence I continued to join the B6160 and head on to Grassington, and followed the B6265 to Pateley Bridge, and then up a white road to Middlesmoor (which had a trench down the middle of it part of the way - rather iffy, that), then to Masham. This last bit of road, plus the Dent road, were the two most fun of a whole lot of fun roads.
The final part of the run was just along the A6108 and A684 back to Hawes.
Heading home on Sunday, I stopped a little way up the aforementioned road past Garside Station to Dent. This is the road that awaited me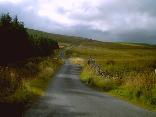 and this is the rainbow behind me
and the arty shots of the rainbow in my mirror
But, in true style, there had to be a casualty - Ian Tatch's Bandit blew a spark plug out and was rescued by a big truck with flashing lights.